Karen Bukowski
Karen was born in Erie, Pennsylvania in 1957. She attended St Luke's Grade School, Mercyhurst Prep High School and Gannon University. Her passion for golf began at Glenwood Golf Course during her elementary school years. Each summer she and the neighborhood kids every weekday would head on down to Glenwood, play 9 holes, have a hot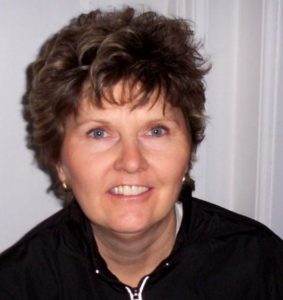 dog and coke, play another 9 and head back home. Karen recalls teeing it up pretending to be in the LPGA. Those dreams were shattered at the end of each season when she was prevented from playing in the club championship simply because she was a girl. As a female golfer pre-Title IX Karen did not play competitive golf or become a member of the LPGA (& PGA) until years later.
Karen earned a Masters Degree in Public Administration from Gannon and served as the executive director of the Humane Society for 16 years. She joined Gospel Hill Golf Club and became a member of Interclub. Later she became a member of Lake View Country Club, where she was a 4-time Club Champion (1996, 2001, 2003, 2004), 2-time winner of the Presidents Cup and 2001 Player of the Year. In 2002 she made a hole-in-one on the club's 12th hole.
In the 1993 EDWGA City Tournament she captured the First Flight with a sudden death victory over Mai Lin Turner. After that her name started showing up in the Championship flight but she never advanced to the semi-finals until 2003. That year she had a victory over Sue Lefaiver that included another hole-in-one on #12 at Lake View that put her in the semi's where she defeated 2001 Champ Keri Dugan, 1 up. In the finals she defeated another first time finalist, Natalie Maleno, 1 up, to become the EDWGA Match Play Champion.
In 2004 the Women's US Amateur was being hosted by the Kahkwa Club and Karen attempted to qualify but was unsuccessful. She did succeed in defending her Lake View club championship title in July, her 4th. Her defense of her EDWGA Match Play title, however, fell short with a quarter-final round loss to Char Sperduto, 1 up.
In January of 2005 she reached a new level in her golf career, passing the Players Ability Test and thus becoming a member or the LPGA Teaching and Club Professionals. Later that year she accepted a position as the Mercyhurst University assistant women's golf coach. As her passion for golf grew, she pursued and obtained Class A membership in the LPGA and PGA and later earned a higher distinction from the PGA as Certified in Instruction and a member advisor of the LPGA. During this time Karen obtained over 20 certifications focused upon teaching golf and worked as an assistant, and later Director of Instruction at Millcreek Golf & Learning Center, the First Assistant at Whispering Woods during the opening season and became the Head Golf Professional at Harbor Ridge, JC Martin (Glenwood), & Downing Golf Courses.
Karen started the first LPGA-USGA Girls Golf Program in Erie County, and hosted Parent/Child and Women's Golf Day Tournaments. In 2006 she mapped golf courses throughout the area for SkyCaddie using GPS technology. After obtaining certification as an Adaptive Golf Instructor, she started a Veteran/Mentor Golf Learning Program with an end of season tournament. She was a PGA Jr. League Captain and Lead Instructor for the Erie Housing Authority Mentor Youth Golf Program. Karen offered a variety of group and private golf instruction programs for first time, adaptive golfers and advanced players. Karen believes that golf is a game for a lifetime and instruction should match the student's individual needs.
In addition to golf course activities, Karen created a Golf for the Business Professional class at Gannon University as an Adjunct Professor in the School of Business. She has authored over 90 monthly golf articles for the Senior News, 3 articles in PGA Best Practices, 2 articles for the Erie Times News and her book ENJOY Playing Golf!
Karen was an LPGA Front Row Experience Instructor at the 2013 Solheim Cup in Parker, Colorado. She was recognized jointly by the LPGA & PGA in 2013 for Extraordinary Commitment to Teaching the Game of Golf. She was recognized by US Kids Golf as a Top 50 Teacher in 2009 and 2010 and in 2014 received the distinction of a US Kids Golf Master Teacher at the PGA Merchandise Show in Orlando, Florida.
Today, after her retirement from golf, you might find Karen wandering around the woods with her camera looking for wild life instead of Pro V's. She has always enjoyed being outdoors and the beauty of nature, be it on the golf course or in the wild. Karen has photographed landscapes and a variety of wildlife including Polar Bears in the wild at Hudson Bay in Manitoba Canada at -24 degrees Fahrenheit; a little different than the days of summer heat on the practice range! She is currently a member of the Erie Photography Club and a Rehab-Release Photographer for Tamarack Wildlife Center.