Wilfred "Irish" Vogt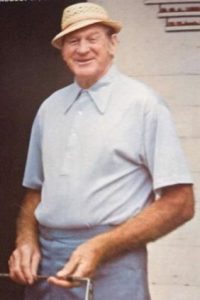 WILFRED "IRISH" VOGT
Wilfred W. (Irish) Vogt was born on September 17, 1904. He died on October 19, 1975. He started his career in golf as a caddy at Glenwood during the first year of its opening in 1919. He initially caddied under the tutelage of then caddie masters, and eventual EDGA Hall of Fame members, Carl Wendel (1957) and Earl Diehl (1961).
After similarly advancing to the position of caddie master at Glenwood, Irish moved on to Lake Shore Country Club when that course opened in 1929. The "elongated genial" Irish remained the head professional for 42 years until his retirement in 1971. According to an Erie Times News article of September 12, 1965, Irish, was "practically a landmark" at the Lake Shore Country Club.
In another Times New publication in 1971, Irish was referred to as "The dean of all Erie golf pros". Irish was a member of a very prominent golf family in the first part of the 20th century in Erie County. He regularly competed in EDGA amateur events with his brothers Art and Hubby who also started as caddies. They too rose from the ranks of caddy and caddy master to the position of head PGA golf professional at the Kahkwa Club (Art) and Erie Golf Course (Hubby).
Irish was a very good player. Until at least 1971, Irish held the course record on the front nine at Lake
Shore with a score of 30. Irish organized and participated in numerous EDGA and local golf tournaments both before and during his tenure as the head professional at Lake Shore. He was a strong advocate for junior golf.
He also supported local causes. In August, 1935, Irish teamed up with the Lake Shore club champion, William
Richardson to play in an exhibition match against 1932 Olympian, and one of the world's all-time greatest athletes, Babe Didrikson. "The Babe's" teammate was none other than PGA Hall of Famer, Gene Sarazen, who was the reigning Master's Champion.Irish was married to Leona Schluraff Vogt and they co-managed Lake Shore Country Club. They were referred to as the "Dynamic Duo". Irish's brother, Elmer "Lefty" Vogt was the club's mixologist; while Irish's brother-in-law Elmer Schluraff was the course superintendent.
Irish and Leona had one daughter, Penny Rae (Vogt) Grunden. Subsequent to Irish's induction into the EDGA Hall of Fame, his brother Hubby Vogt (1968) and his nephew Dick Fessler (1982), were inducted into the EDGA Hall of Fame. In 1994, Irish's niece by marriage, Mary Ann Roberts Fessler, was inducted into the EDWGA Hall of Fame. Ironically, the ceremony was at Lake Shore Country Club.