James Keim, Jr.
Jim, who was born in Erie was married to Patricia for 34 years and had a former spouse, Helen. They have 4 children, Michael Keim (Diane), Denise Keim, Christopher Keim (Carisa) and Beth Domino; and six grand- children, Aaron, Alex and Jamie Keim, Samuel Keim, Gwyndolyn and Aleriya Domino. He also has a former spouse.
He graduated from St. Andrew's School, Cathedral Prep (1956), and John Carroll University (1960), where he excelled in academics, basketball and golf. At John Carroll he was the captain and leading scorer of the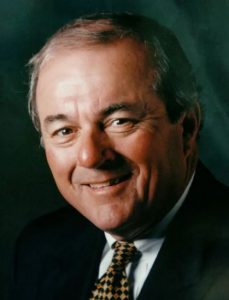 basketball and golf teams. Following college, Jim was drafted and served in the U.S. Army. He then became a golf professional at Maplehurst CC in Jamestown, N.Y. While there he was encouraged and sponsored by some members to attempt and successfully earn his PGA Tour card, where he teed it up with the best in the world for three seasons.
Following professional golf, he joined Paine Webber as a stockbroker and enjoyed a long successful career before retiring from RBC Wealth Management in 2012. Jim enjoyed a highly successful amateur golf career, competing in nine USGA National Championships and winning local, state and regional events. In 1993, he was ranked fourth in the USA for senior golfers by Golf Digest magazine.
His first EDGA title came in the 1960 Erie District Golf Association Amateur Championship, which  was in its last year as a match play event. Keim defeated two-time champion, John Britton, in the semi-finals and then defeated the 1959 runner up Cal Neithamer in the finals 1 up. In 1973 the EDGA brought match play back as a second major alongside the EDGA Amateur. In the 1974 Match Play Championship, Jim defeated 2-time EDGA major champion Gene George in the semi-finals 3&2 and then went on to defeat Dale Loeslein 7&6 in the 36 hole finale. Loeslein would win the Match Play and the Amateur 2 years later and added a second Amateur in 1978. Jim had 5 top 10's in the EDGA Amateur stroke play including a 3rd (1996), 2 4th's (1985, 1993) and an 8th and a 9th. Keim captured more than 40 titles during his lengthy career.
He won the EDGA J.C. Martin Seniors tournament in 1991 and 1992, the first one with 66 at Riverside. He also teamed with sons Chris (5) and Mike (3) to win at eight EDGA Father and Son tourney titles.
He was inducted into several halls of fame, including the Cathedral Prep President's Hall of Fame (1998), John Carroll University Athletic Hall of Fame (1974), and the Metropolitan Erie Chapter of the Pennsylvania Sports Hall of Fame (1988).
In 2015, he was named to the Presidents' Athletic Conference 60-Year Anniversary Golf Team after he led John Carroll to four PAC titles from 1957-60. He was the Most Valuable Player at the 1960 PAC championship. He also was a basketball standout in college.
He worked for five years as a club professional and spent two years as a non-exempt player on the PGA Tour before regaining his amateur status.
He started the Jim Keim Scholarship Fund at Gannon University.
Jim passed away at the age of 79 in on January 28, 2018.