Matt Barto claims 50th EDGA Match Play Title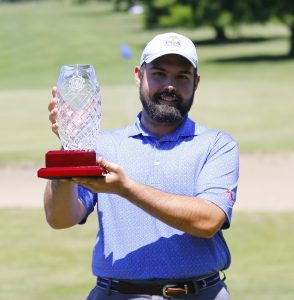 For Matt Barto it seemed like a long wait. In his first EDGA Match Play in 2019 he made it to the finals only to lose to Drew Deimel. The next year he was right back in the finals, this time losing to Ryan Peters at Whispering Woods. Last year he lost to Jon Merriott in the quarter finals at Jon's home course, Lawrence Park. Three tournaments and his only losses were against the eventual champions. If he couldn't pull off the win today it would have been 4 for 4 but he was determined to make sure that wasn't the result in today's final against Alex Weir.
Alex has been dealing with his own near misses. In 2018 and again in 2020 he lost in the semi-finals to the eventual champions, Deimel and Peters and last year lost in the finals to Jon Merriott 2 up. In his only other EDGA Match Play, he lost in the quarter finals to Barto in 2019.
The match was contested at Downing with cool and somewhat windy conditions. The match went back and forth with both players holding 1 up leads. Both players opened with birdies but an errant approach by Weir on 2 led to the first lead of the day. After matching pars on the next two holes it was Barto's errant shot on the par 3 5th that led to a bogey and the match was back to even. Both players birdied both 6 and 7 and Barto continued his string, converting a 20 footer for birdie on 8 and another 1 up lead. That was short lived as Weir closed the front nine with a sand save for par while Barto three putted from the fringe and, at the halfway point, the match was even.
Barto found a little trouble with both his tee shot and his second while Weir calmly hit driver and an iron to Downing's par 5 tenth. With Barto unable to salvage par Weir's short birdie putt was conceded and he had his first lead of the day. Both players faces testing par saves on 11 but both converted. When Weir's tee shot on 12 found the right trees it appeared that Barto was in position to re-tie the match. Weir punched out just short of the green and then chipped to about 5 feet. Barto had left his approach on the front fringe and his first putt to the front pin left him short … and still away. When he missed the short putt Weir was in position to take the first 2 up lead of the match. Unfortunately, he too missed and his lead remained at 1 up.
On the short par 5 thirteen it was Barto who would miss right but played a fabulous iron to the green, leaving himself only about 12 feet for eagle. Weir too had iron into the green but missed left. His short-sided pitch left him about 6 feet for birdie but Barto canned his eagle putt and the match was again tied. On 14 both players left themselves with good chances for birdie but both missed. On the long par 3 15 again both players hit quality shots leaving mid-range putts for birdie. Both missed but it was Weir's miss that left him with a 4 foot tester to keep the match tied, a putt that he was not able to convert so the match headed to Downing's difficult finishing holes with Barto ahead by 1.
After long drives into the wind both players were in excellent position with about 110 yards to make that needed birdie. Both players hit similar shots, well short of pin high and to the left leaving both of them unable to convert that birdies that they so sorely needed.
Downing's 17th was playing difficult as a left-to-right wind made the long dogleg left a formidable challenge. Barto was able to keep his tee shot left of the tree line on the right but Weir was not. Barto's tree troubles were not as severe as he was able to clear the left side of the tree in front of him but his shot missed the green slightly to the left. Weir faced either a long, low punch shot or a dramatic hook to avoid his tree troubles. He opted for the hook but, with his ball fighting the wind, he ended up well right of the green on the short side. He attempted a risky flop shot fearing that it was necessary with the match in the balance but he didn't pull it off and was still short of the green on the right side.
Barto hit a bit of a substandard chip leaving himself a good 10 feet breathing just a bit of life into Weir's hopes. However, facing yet another delicate short sided chip he was unable to get his 4th closer than Barto's 3rd. When he was unable to convert his saving putt Barto was left with 2 putts to win the match. He would need only one, rolling his putt right into the center, ending the match 2&1.
Full scores and tournament results are available here.
Posted in Uncategorized | Comments Off on Matt Barto claims 50th EDGA Match Play Title