Herbert "Hubby" Vogt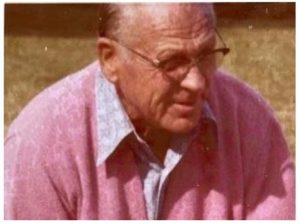 Herbert "Hubby" Vogt was born on December 10, 1906. He died on February 11, 1988. Like his brothers, Art Vogt and Wilfred W. "Irish" Vogt, Hubby got his start in golf as a caddy at Glenwood shortly after it opened to the public in 1919. Similarly, as his brothers, Hubby rose through the golf business ranks, advancing from caddy and then caddy master at Glenwood, to caddy master, assistant professional and then head professional at Erie Golf Course. Other than his absence during World War II where he served as a combat engineer on the front lines in Germany, Hubby worked as Erie's head PGA professional from 1935 until his retirement in 1968. During his military absence, Hubby's wife, Helen (Knall) Vogt, ran all operations at the Erie Golf Course.
Hubby was a very good and accomplished player. He developed his game by his devotion to practice and by competing against the best in the area including competing against his older brothers Art and Irish. Up until the day he passed, it is said that he would hit 200 balls a day. In 1926 Hubby became the first member of Glenwood to capture the EDGA title. He competed in, and qualified for, the national Public Links team tournament which took his tournament golf on the road to Philadelphia and St Louis where he served as captain of the Erie team. In 1927, Hubby was ruled ineligible to compete in the national Public Links tournament in Cleveland, Ohio because he had been provided with a free membership to the Kahkwa Club by virtue of his win of the EDGA tournament the prior year. At the time, a free one -year membership to Kahkwa was given as part of the winning prize.
The USGA ruled that a player having a privilege of playing a private course was not eligible play in the national tournament. Hubby won the prestigious Labor Day Tournament at Glenwood in 1928. He was the runner- up in the 1929 EDGA championship. After turning professional, Hubby won several professional Pro-Am tournaments. He tied for second in the 1937 Erie Open which included prominent professionals from both within and outside of Northwestern Pennsylvania. In 1966, at the age of 66, he teamed with Pat Schwab to win the Senior/Junior Best-Ball tournament in Florida.
At one time, Hubby held the 18-hole course record at Glenwood with a 63 until it was broken in 1934; the course record at Cambridge Springs golf course (Riverside) with a 62; and the course record at Meadville Country Club with a 70. Hubby equaled the course record of 63 at the Erie Golf course in 1955. The records reveal that Hubby had two holes in one including an ace in 1937 on the second hole at Erie (now number17). The hole measured 225 yards and he used a brassie. Hubby enjoyed competition of any kind. He hosted and participated in exhibitions with top professionals of his time including the Australian and trick shot artist, Joe Kirkwood; Helen Dettweiller, one of the founding members of the LPGA and winner of the 1939 Women's Western Open; and in 1950, Hall of Famer, Gene Sarazen, winner of seven major championships, and one of only four payers to capture the Career Grand Slam. Mr. Sarazen had played with Irish Vogt fifteen years earlier at Lake Shore Country Club.
Hubby volunteered as the financial officer of the Erie Golfing Club. He was the Northwestern Pennsylvania representative of the Tri State Professional Golf Association. Hubby advocated for junior golf and for women in golf. Perhaps his proudest accomplishment among all his achievements, however, was his support for minorities in golf. He felt strongly that golf should be available to anyone and everyone.
Hubby and his wife Helen have one daughter, Bonnie Vogt Meyer. Bonnie, through the instructions from her father and mother, both on the course and in the shop, worked at Erie golf course for several years and competed locally at the junior level. Hubby was preceded in his induction into the EDGA Hall of Fame by his brother Irish who became a member in 1965. In 1982, Hubby's nephew, Dick Fessler, joined the distinguished group. Hubby's niece by marriage, Mary Ann Roberts Fessler, was inducted into the EDWGA Hall of Fame In 1984.