Dr. Edward Podufal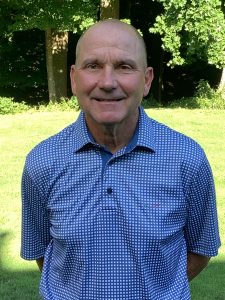 Ed is married to Christine and they have three children, Gregory, Sarah, and Ryan.
He attended Fairview High School, graduating in 1979. He went on to Allegheny College (1979-83), and then Kirksville College of Osteopathic Medicine (1984-88). Dr. Podufal completed his anesthesiology residency at Case Western Reserve University in Cleveland (1988-92).
As a well-respected anesthesiologist in Northwestern, Pennsylvania, Dr. Podufal   served both as the chairman of the AHN St. Vincent Department of Anesthesiology and as the President of Anesthesia Consultants of Erie.
Ed, or as he is also known Eddie, started playing golf at a young age. He honed his skills at Lake Shore Country Club. He was a key member of the golf teams at Fairview H.S. and Allegheny College. While at Allegheny, he was the co-captain of the 1983 team that captured the NCAA Division III National Championship, the first team national championship in the school's history. Eddie was an NCAA Division III All-American in 1981, 1982, and 1983. He was inducted into the Allegheny College Athletic Hall of Fame in 1993.
Ed began his EDGA career, in earnest, in 1976. He missed a playoff for the match competition by one stroke. He entered the match play battlefield in 1979 at Lake Shore where he won 2 matches before losing to eventual champion and hall of famer, Brett Kieffer. Not to be deterred, and ever the grinder, later that year, at age of 18, Eddie captured the first of his four EDGA major championships. Ed won the 1979 EDGA Amateur championship by four shots over his high school teammate Rob Yeager, firing a final round of 71 at Erie following opening with rounds of 70 and 72 at Lake View and Lawrence Park.
Eddie went on to win back-to-back Match Play titles in 1984 and 1985 defeating Dick Ambrose at Lake Shore and Dario Cipriani at Gospel Hill.  After a layoff due to schooling, he captured his 4th and final EDGA major title in 1997, defeating David Hewett in the Match Play championship at Lake Shore. With 4 EDGA major titles, Ed is tied for 5th on the all-time EDGA ranking list.
In addition to his championships, Ed was a runner up in the Amateur in 2005 at Downing, finishing 3 shots back of Ellery Tarbell. He was also a finalist in 2015 Match Play Championship at Meadville CC, where Chris Kupniewski won the crown.
Outside of the EDGA majors, Eddie holds three titles in the EDGA Father and Son. He and his late father Pete teamed to win in 1978. Later, Eddie joined forces with his son Greg to win the titles 2008 and 2009.
Ed currently plays at the Kahkwa Club. In July of 2018, Ed tied the amateur course record at the Kahkwa with a score of 9-under par 63. His round included 9 consecutive birdies on holes 8 through 16.
Ed has captured 7 club championships during his career, 6 at Lake Shore and 1 at the Kahkwa Club. He has also served on the greens committee at both of those clubs.
More recently, Ed has been competing in both Pa State and West Penn Golf Association senior events. To date, Ed has finished in the top three 7 times.