Dave Smith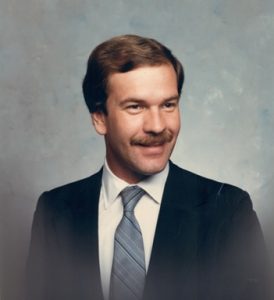 Dave Smith was born June 6, 1955. He is married to Kim (Bobelak) Smith and they have three children: Cory, Amanda and Nicole. They are also the proud grandparents of Luke, Faith, Kaylee, and Peyton.
"Smitty" is a 1973 graduate of Cathedral Prep where he was a 4-year letterman in golf. He captured the District 10 championship in 1973. Loyal and True to his Ramblers, Dave would later return to his alma mater to serve as its head golf coach.
Dave began his post high school play at Miami-Dade Junior College in 1974. The 6'4" smooth swinging, lanky linkster was part of the AJCAA national championship team with Billy Britton in 1975. He finished 5th overall as an individual and was honored as a first team All American. He also won the South Florida Intercollegiate that year. Smitty then moved on to the University of New Orleans where he completed his college career as a member of the Privateers' golf team.
Dave was a force to be reckoned with in EDGA circles. His early success came in 1975 when he was crowned Match Play King at Lawrence Park G.C. after defeating Chuck Moon in the finals. He returned to the championship the next year at Gospel Hill G.C. but was unable to overcome another titan of the time, Dale Loeslein. Determined to get back on top of the podium, Smitty defeated Dario Cipriani in the semi-finals and Tom Amendola in the finals to win the 1981 title at Erie G.C. Dick Ambrose spoiled Dave's chance of getting his name on the trophy for a third time in 1983 at the Kahkwa CC. Mr. Smith's match play record shows 27 wins against 10 losses, two titles, two runners-up and 12 match play appearances in 13 years.
While chasing the gold, Smitty was minting silver in the EDGA Amateur stroke play tournament. From 1972 through 1984 he participated in every event, impressively beating every player in the field but one on four occasions, in 1974 (Gene George), 1981 (Brett Kieffer), 1982 (Kevin Benovic), and 1984 (Dario Cipriani). Three of his runner-up finishes were by a single shot and the other by 2. He had 6 other "top tens" in that period. Finally, in 1985 Dave won the gold. After rounds of 71-71 at Erie and Lake Shore CC and trailing Tom Amendola and Dario Cipriani by 2 strokes after 36 holes, Smitty fired a 72 at Kahkwa to clutch the coveted trophy. In 13 years, he finished in the top 6 of the stroke play event, eleven times.
As a member of the Erie G.C. squad, Smitty teamed with two other EDGA Major Champions, Dale Loeslein and John Mazza, to win the 1975 and 1977 EDGA Interclub championships. Choosing golf as his profession, Dave closed his relatively short EDGA career with 3 major titles and 6 runner- up finishes.
Following his stellar amateur run, Dave turned pro in 1985, the day after winning the EDGA Amateur. He had 12 lessons that next day and has been actively teaching golf ever since, 37 years in all and counting. While he worked as an assistant to Joe Borawski at Lake Shore Country Club from 1987 to 1994, he knew that his talent and love for the game was better suited outside the shop and at the range.
Throughout his career he has mentored a number of EDGA and EDWGA major champions. One of his greatest joys involves teaching juniors. Over the years, he has taught 9 EDGA Major Champions and 4 EDWGA champions. He was also an instructor at the Gannon University Kids College in 1987.
Dave has been the swing doctor to countless young and old, aspiring and frustrated, promising and not so promising, players at the ranges of Big Tree; Country Greens; Sportland, and the Golf Dome. He currently provides hope to many at the Millcreek Golf and Learning Center.
As a player, he has won several local pro-am events. He competed in the U.S. Open qualifier on ten different occasions. Dave's personal bests include a score of 63, at the time, the course record at Gospel Hill; and the same scorching score at Riverside.
Dave was mesmerized by the late Arnold Palmer. Like Mr. Palmer, Smitty has a strong work ethic; a deep passion for the game; and he has helped grow the game. Physically, like Arnie, Dave has big strong hands. One of Smitty' s fondest golf memories is when he met the legendary Palmer in the bag room at Kahkwa. Smitty received an autographed copy of Arnie's book and a firm handshake from the King.