Georgiann "Turk" Hamilton
Turk is married to Jim Wronek and has 2 children, Clayton and Evan. She attended Harborcreek High School and grew up right around the corner from Gospel Hill Golf Club where she played golf as a child and continued to play there until the course closed last year. She now plays at Lawrence Park Golf Club.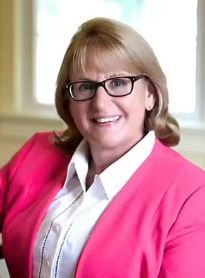 Turk is the owner/operator of the Hamilton Insurance Agency (since 1986) and is a Certified Insurance Counselor and Accredited Advisor of Insurance. She twice earned Erie Insurance Group's Quality Agent Award.
She has been a member of the EDWGA since 1977 and is a former President (1991-93) of the Association as well as Vice President (1989-91) and Past President (1993-95). She also served as the recording Secretary. Along with her husband Jim, she coached the Villa Maria Elementary golf team from 2005-09 and is involved with numerous other civic organizations.
Turk captured her first EDWGA Match Play Championship in 1979 and followed that with 5 consecutive victories from 1981 through 1985. In 1986 she extended her match winning streak to 23 matches before falling to Mary Ann Fessler in the finals at Kahkwa. before claiming a 7th title in 1988. She was also a runner up 3 times (1973, 1986, and 1989).
She was a Junior Girls City champion in 1972 and was the runner up in 1971. Through the years she has won over 20 club championships. She played in the 1978 USGA Public Linx in Myrtle Beach.
Turk was inducted into the Metropolitan Erie Chapter of the Pennsylvania Sports Hall of Fame in 1992.
In addition to golf, Turk enjoys skiing and boating.