Maggie Goodall
Maggi was born in Zanesville, Ohio and graduated from Webster Groves High School in St. Louis, Mo. and attended Southern Illinois University, where she met her husband Jim. They moved to Erie in 1969. Maggi is being inducted to the EDWGA Hall of Fame posthumously having passed away earlier this year. She is survived by two daughters, Susan (Jeff) Norris and Carolyn (Mark) Sabolcik and five grandchildren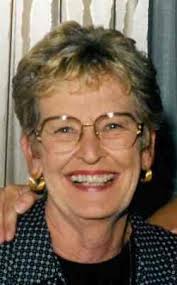 Maggi also volunteered her time with several other organizations. She was a member of Asbury United Methodist Church and was a lifelong member of The Kahkwa Club, Erie, Pa. and later also a member of the Mt. Dora C.C., Mt. Dora, Florida.
Maggi's life was filled with service to the Erie golfing community that included working on the Greater Erie Charity Golf Classic with Ted Grassi and Co-Chair with Tom Ridge. She also played in the Charity Classic at the Kahkwa Club with her grandson, Matthew Sabolcik, who was caddying for the first time. She was in charge of all outside activities (scoring, housing and marshalls) for the 2004 US Women's Amateur at the Kahkwa Club. She assisted many junior golf programs at The Kahkwa Club  & J.C. Martin and served the Kahkwa Club 18 Hole Women's League for many years in various roles. 
Her commitment to help others went beyond the local golfing community. She volunteered at the United Way Hotline and Kids Café, cared for several elderly friends in need, with her husband, Jim, set up a family fund at the Erie Community Foundation, and more recently, became a supporter of "Africa 6000", providing water for communities in need
When she wasn't busy helping and encouraging others, she played a pretty good game of golf. Maggi was the women's club champion at the Kahkwa Club 12 times. In EDWGA competition, she was runner-up in the EDWGA City Tournament (Match Play) three times before finally winning the title against the then 7-time champion and EDWGA Hall of Famer, Turk Hamilton in 1989. They became great friends over their years on and off the golf course. She also won four EDWGA Senior Championships (1992, 1994 and 2001-02).
She made 3 holes-in-one in her career, 2 at LakeView CC and 1 at the Mt. Dora CC.
Her legacy of her love for the game and her desire to help others will live on through her family.