Elizabeth "Liz" Robinson
Liz was born on March 7, 1947 in Columbia, Tennessee. She married the love of her life, Tom "Pro" Robinson in 1969. They are proud parents of daughter Robbe and son Tom, Jr. and grandparents to Rossi Bell.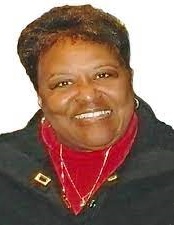 Liz was a high school honor student and attended Tennessee State University. She worked both at the Erie Community Blood Bank and the Studio Hue Beauty Salon.
Tom introduced Liz to the game of golf. He was the only person she ever played with during the summer months "back home" in Tennessee. In 1978, after relocating to Erie, and once her kids became school aged, Liz was attracted to the Erie Golf Belles at the Erie Golf Club. She was quickly welcomed by the group and soon became an instrumental member of the powerful Erie ladies' interclub team, a team that won 12 titles from 1981 through 2002.
Mrs. Robinson won a number of club championships at Erie G.C.  and Downing Golf Course. Pairing with her "Coach Rob", she also won the EDWGA Couples Tournament in 1987, 1988 and 1990. Working her way up the individual championship ladder, Liz claimed several victories in both the first and second flights.
After maturing as a player, Liz finally experienced the top of the championship flight's winner's podium. She was a 4-time EDWGA Seniors Champion with titles in 1997, 1998, 2000, and 2004. She captured the Super Seniors crown in 2008 and 2012. Liz also competed in the World Amateur Handicap Championship in both 1997 and 1998, placing in that event in 1997.
Mrs. Robinson enthusiastically promoted the game of golf at the local level. She began by assisting local pro Kim Kupniewski in running the Sectional Qualifier of the Drive, Chip and Putt competition which was held at Downing Golf Course. Later, she served the EDWGA as president.
Liz was proud of her photos with two of the biggest legends in the game of golf, Arnold Palmer and Tiger Woods. She gushed about meeting these icons at the Bay Hill Club in Orlando, Florida in 1998.
In 2016, Liz was featured in the African American Golf Digest with a focus on meeting "The King". Three years later, she was featured again, in the same magazine, in article entitled "Let's Toot a Horn for a Real Winner."
While Liz would say that the best tip she ever received was "drive for show, putt for dough," because "it made a lot of sense", her favorite club was still the driver. Tom and Liz, and her scramble partners, were proud that she could "bomb it" with the longest hitters.
Mrs. Robinson's favorite golf memory was playing in the Greater Erie Charity Golf Classic with LPGA pro Dale Eggeling and local amateur, Sue Sutto. With her big smile, Liz beamed, "I had such a great time!".
Golf travel with "Pro" took Liz to many places near and far and produced countless memories. Her trips to Nashville, however, were special as they resulted in her lowest score, a 75 which she shot at the Hermitage G.C.; and her only hole-in-one which occurred at the Country Hills Golf Club.
As anyone who knew her would attest, aside from being an avid amateur golfer, Liz was a "lady with a big heart and tremendous love for the sport." As Liz would say, she loved "Goff". She passed away on June 12, 2022.