Kathy Lynch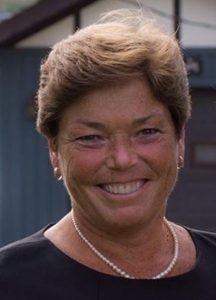 Kathy Lynch was born in Ft. Knox, Kentucky in 1959.  She is one of six children born to James and Joan Lynch and presently resides in Findley Lake, NY. She graduated from Villa Maria Academy in 1977 where she excelled in basketball, lettering three consecutive years. She was captain and leading scorer in both her junior and senior years and with Lynch's help, the Victors claimed their first District 10 championship.
She went on to attend St. Bonaventure University earning a BA degree in Accounting, followed by an MBA from Gannon University.  While at St. Bonnies she became a "walk on" for the women's basketball team as a freshman.  She excelled to the point of earning an athletic scholarship for her final 3 years as a "Bonnie."  Kathy became the leading scorer and first woman in school history to score 1,000 points (when there wasn't a 3 point shot).  In 1981 she was honored as the WSBU Player of the Year and in 1991  Kathy was honored as the first woman to be inducted into the St. Bonaventure Athletic Hall of Fame. Her teams were 53-26 over her career which also extended to a starring role on the SBU softball team.
Kathy began playing golf as a young child with her father, Jim and brother Jeff.  There were no golf teams in those days, so she played casually throughout her high school and college years.  Upon graduating from college she joined the EDWGA to play in competitive golf events for the first time. At about the same time (1987), Kathy joined Lake View CC where she remains an active member.  She has participated in numerous club events and holds 12 Club Championship titles.
Kathy has played in a number of EDWGA events. She lost in the semi-finals in 2009 to Jackie Dill and then came back to win the qualifier in the 2010 event with a closing birdie on the par 3 18th at Lake Shore. Her first title came the next year, in 2011, as she captured the EDWGA Seniors again at Lake Shore. Her best year was in 2014 when she captured her second seniors title and was runner up in the EDWGA Match Play Championship, falling in the finals to Karlie Zabrosky at Lawrence Park. Zabrosky made that her third consecutive title. Kathy also has one title in the Match Play's first (B) flight.
In 1995 she was inducted in the Metro Erie Chapter of Pennsylvania Hall of Fame for her accomplishments as Division I NCAA Basketball Official and player.   She also was honored by the Times-News as Erie Sportswoman of the year in 2020.
Kathy has served as past President of EDWGA for two terms and was instrumental in the establishment of the women's Stroke Play Tournament during her tenure.
Outside of the EDWGA community, Kathy has extended her golf talents since 2012 as the Mercyhurst Prep girl's golf team head coach.  Her teams and or individual players  have earned placement in numerous PIAA State Championship's. In 2012, the Lakers, under Kathy's guidance, finished 2nd in the State missing the gold by only a few strokes.
One of Lynch's star pupils was Sarah White, who now plays golf at Gannon. She said, "even though I didn't win the state title (in 2019), I felt like I'd won because I learned from her not only how to be a golfer but to be selfless." Laker athletic director, Dan Perfetto, said of her, "she's a wonderful person, and I couldn't be happier for her to receive this honor. She has done so much for us and our girls golf program." As for coaching Mercyhurst golfers, Lynch said it's filled a spiritual void that she didn't know existed to the extent it did. She's enjoyed the experience well beyond her expectations, with no greater example than White's memories and her praise.
In addition to golf there's more basketball. Kathy is recognized as an outstanding and nationally recognized college basketball referee, enjoying a nearly a 40 year career. In 1994 and 1995 she refereed the NCAA Division II national championship game and in 1992-95 she refereed the NCAA Division III national championship game.
Her start as a ref was a bit more humble. Lynch planned to shadow Erie's Marlene Smith, who would became her professional mentor and friend, for a women's game at Edinboro University's McComb Fieldhouse. The second official never showed, Lynch was invited to fill in and she never looked back. By the early 1990s, she was accomplished enough to officiate PIAA girls basketball finals at Hershey. "It was somewhere in that range that I finally thought, 'You know, maybe I'm better at this than I think I am,' " Lynch said. "It wasn't just the local colleges who were calling me. The whole country was looking."
Although Lynch's regular job was as an accountant for Kaiser Aluminum, the game at Edinboro was the flashpoint for what became her life's work.
Kathy's love and dedication to the game of golf has resulted in this in unique honor, of which she is truly appreciative and thankful to all who have made this possible. Recent EDWGA President, Diane Stickell noted, "she's been a great role model, and she's done a great job with the students."