Mary Ann Fessler
Mary Ann Roberts Fessler, was born on November 26, 1932. She was the daughter of Dr. R. John Roberts and Elizabeth Melaven Roberts. Their family home was only about a par 5 from the Glenwood golf course, and they were also members of the Kahkwa Club. Mary Ann married Don Fessler and they have ten children; 41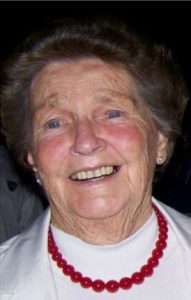 grandchildren and 20 great grandchildren with more to come.
Mary Ann attended Mercyhurst Preparatory High School and graduated in 1950. She then went to Marymount College in Tarrytown, New York where she graduated in 1954.
Mary Ann was a very good athlete. She could play any sport including basketball. Just get the ball in her hands.  As evidenced by her scraped- up knees in old black and white photos, she wasn't afraid of battle, a characteristic she would carry her whole life.
Mary Ann's primary sport, however, was golf. Over a span of four decades, she collected five city "major" championships. She began her title gathering in 1949 by winning the Jr. City tournament at Glenwood. She won the same contest in 1950 and 1951. Two- years later, taking on the big girls, she captured her first "major". With her brother John on the bag, she was the youngest winner of the EDWGA tourney up to that date. She collected the gold again in 1959 before taking off more than a decade to deliver her ten children.  She returned to action and won the EDWGA City tournament again in 1970, 1986 and 1987. Amazingly, she finished runner up seven times.
Mrs. Fessler won 13 EDWGA Senior championships, including 9 consecutive titles. Her win in 1986 followed her triumph over the "young kids" earlier that summer to make her the first and only woman to hold the regular and senior EDWGA hardware in the same year.
Mary Ann won at least one club championship at Erie and conquered the top prize 13 times at Kahkwa.  Undoubtedly, but not confirmed, she also won club titles at Glenwood. She had a single digit handicap most of her playing career. She had 7 holes in one.
"Ma Fess" and her husband Don started as members at Erie Golf Course, where Don's uncle, and EDGA Hall of Famer, Hubby Vogt was the pro. By winning the club championship at Erie, she was awarded a membership for the following year… and a carton of cigarettes. Fortunately, through her strong will, and fulfilling a promise to God upon her oldest son's acceptance to medical school, Mary Ann gave up the cigarettes. That experience was tougher than being eight down after nine holes, but she won the match.
Mary Ann moved from Erie golf course to Lake Shore Country Club where Don's uncle and Hall of Famer, Irish Vogt, was the pro. They played there for several years until 1971 when they joined the Kahkwa Club, where Don's uncle Art Vogt was previously the head professional. That year, JoAnne Carner won the US Open at Kahkwa. Mary Ann and Don's oldest son, Tom, was on the bag. That was a thrill for not only Tom but his family as well.
Mary Ann's resilience was simply remarkable. Her first EDWGA "major" in 1953 followed her recovery from a broken back that occurred less than a year before the tournament. After a long absence from tournament golf, her win in 1970 occurred less than a year from the delivery of her tenth child, Jimmy.
She underwent her first open heart surgery, a quadruple bypass in 1994, yet returned to golf and captured the EDWGA Seniors in 1995 and 1996. Finally, and most amazingly, after undergoing an aortic valve replacement on August 10, 2006, which required her to be in an induced coma for several weeks and kept her hospitalized and then convalescing at St. Mary's Home until December 8, 2006 (the Feast of the Immaculate Conception and her daughter Kathy's birthday), Mary Ann teed it up in the Fessler Family Open in July 2007. Although never leaving the "winner's circle" in the hearts and minds of her family, her name returned to the family plaque of champions as part of the winning teams in 2009 and 2011.
Mary Ann passed away October 15, 2014. She actually died as her husband Don handed her communion at their family cottage. The Fessler family are practicing Catholics and while they were sad that their Matriarch was no longer with them, they couldn't ask for a better way for her to depart for the green fairways of Heaven.
Mary Ann was inducted into the Erie Chapter of the Pennsylvania Hall of Fame in 1987.