Grassi runs away with 100th EDGA Amateur Championship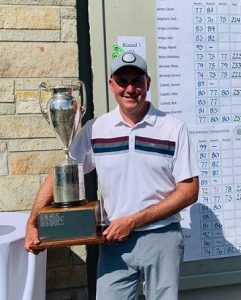 When the final round began it appeared that quite a fight was in store for the one that would capture the title. It didn't really turn out that way as Ted Grassi, III captured the title by 8 shots. Grassi began the day tied with the defending champion Tyler Cozad. That tie would end on the second where Cozad made bogey. Grassi continued to make pars, he parred all 9 holes on the front, while Cozad would register another bogey on 4 and another on 9 finishing 3 back of Grassi. Grassi made his first birdie on the par 5 12th extending the lead to 4. After pars by both players on 13 Grassi appeared to be in trouble after driving into the fairway bunker and then hitting his second shot to the left. He could not manage to hold the green from that angle and left himself in the collection about 40 yards from the pin. He would, however, hole that shot for birdie and add another stroke to his lead. When Cozad doubled the par 3 15th the lead grew to 7. Both players birdied 16 and bogeyed 17 and when Grassi completed his up and down for par on the finishing hole the final margin was 8. He shot the low round of the day, a 2-under par 70 and finished the tournament at 3-under 213. Cozad finished second with 78-221.
The victory was long-awaited for Grassi who captured the EDGA Match Play back in 2013 and had amassed 12 top 10's in the Amateur but only managed a best finish of 4th in 2006. That event was also at Kahkwa.
Gannon sophomore Connor Bennink finished alone in 3rd with 75-222. Two players were tied fourth, Jon Merriott 74-223 and Matt Barto 77-223. 2010 Champion Drew Deimel finished tied for 6th. He shot 73 to finish with 224 while Mercyhurst's Jack Angelucci had 75-224. Kahkwa member Mike Wolf shot a fine round of even par 72 to finish alone in 8th with 225. The top 10 was rounded out by 2020 Match Play Champion Ryan Peters (72-226) and Evan Rowane (75-226). Peters had his round to 5 under after an eagle on 12 and a birdie on 14. A double on 15 and a bogey on 16 would set him back but then followed up with a birdie on 17. He then lost a ball to the right of the 18th fairway and had to settle for a closing triple and an even par round.
Next year's EDGA Amateur Championship is tentatively schedule for Lake View Country Club.
Posted in Uncategorized | Comments Off on Grassi runs away with 100th EDGA Amateur Championship