Deimel takes the lead after 2nd Round of Amateur
Drew Deimel again shot the low round of the day, this time a 3-under par 69 to take a 2 stroke lead heading into the final round of the EDGA Amateur Championship. Drew had 4 birdies and just one bogey in his 3-under par round. Drew is seeking his 5th EDGA major.
Mercyhurst University's Adrian Larsen matched Deimel's 69 on the strength of 5 birdies. 2017 Match Play Champion Sean Sculley had the only other under par round. His 70 also included 5 birdies. Both Larsen and Sculley are tied for second at 141, 2 shots behind Deimel.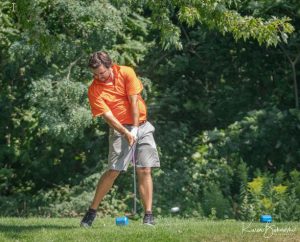 3 other players finished their 36 holes under par, all 1-under 143, and are tied for 4th. That group includes David Nichols (71-72), Ryan Peters (71-72) and Tyler Cozad. Each followed up opening round 71's with 72 today. The top 10 is rounded out by 4 players, all at even par, including Ryan Deimel, Mike Wolfe, Evan Rowane and Mark Majewski. Match Play runner up Matt Barto and Mike Newcomer are next with 145 while the defending champion, Patrick Kelly sits 13th at 146 with rounds of 72 and 74.
The cut line for Sunday's final round fell at 7-over par 151. The final round is slated to begin at 10:00am at the Downing Golf Course. Of the 25 players making the cut, the top 15 after 54 holes will win a prize.
Posted in Uncategorized | Comments Off on Deimel takes the lead after 2nd Round of Amateur