Ellery Tarbell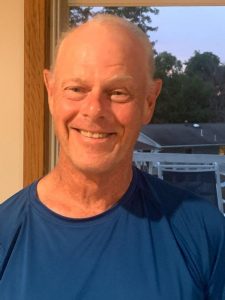 Ellery Tarbell was born on January 15, 1959 in Erie, PA.  He is married to Barb Tarbell and they have two children, Gregory and Maria. They are also the proud grandparents of Aria and Ryder.
Ellery, "E-man" or simply "E" attended Union City High School. After graduating in 1976, he initially attended Edinboro University before he ultimately obtained a degree in Management from Penn State (Behrend) University in 1984. He is currently a salesman for Sealing Devices, a position he has held for 38 years.
At a young age, E began honing his game at Union City Country Club. Practice paid off as he was later a member of the talented Fighting Scotts golf team.
E-man, who currently plays his golf at the Lake View Country Club, began his EDGA career in the early 1980's. By 1993, he recorded his first top ten finish when he ended 8th in the Amateur. With rounds of 74, 72 and 73, E broke through to the Amateur championship podium in 2005, defeating runner-up Ed Podufal by 3 strokes. His next title came quickly as he defended his crown in 2006 at the Kahkwa Club. After finishing 7th in 2007, E-man was back on top at Lawrence Park in 2008, defeating David Hewett and Gregor Orlando in a playoff. In 2010 he finished 9th.  Impressively, in 2011, Ellery became the first, and only, 4-time EDGA Amateur Champion. His victory at the Kahkwa Club, with a 54-hole score of 4 under par, came by a single stroke over Austin Romeo, Mike Newcomer, and Don Fessler, Jr. Ellery's strong showings in the Amateur continued thereafter, finishing 5th, 2nd, 7th, and 5th over the next 4 years. To date, E-man has amassed 4 titles and 12 top ten finishes in the EDGA Amateur.
Keeping the engraver busy, Ellery captured the EDGA Mid-Am at Lake View in 2004; the EDGA Better-Ball in 2007; and the Streeter Cup in 2009 and 2015. E-man has a 20-15 record in the EDGA Match Play event. In 2012, he finished runner to Drew Deimel at Lake Shore, or his name would be on that EDGA trophy as well. Between 2004 and 2015, Ellery captured all of his 8 EDGA titles. His 5 individual EDGA titles ranks 6th all-time; and his total of 8 EDGA titles is 9th on the all-time list.
In addition to his EDGA accomplishments, E captured several club championships at Union City CC as a teenager. He has added 3 club championships at Lake View CC, all back-to-back 2008-2010. He has also won several senior championships at Lake View.
In 2000, Ellery took his talents outside the local area when he partnered with long-time friend, Doug Fugate to capture the Pa State Golf Association Better-Ball at Southpointe in Pittsburgh. In 2009 he partnered again with Doug to win the West Penn Golf Association's Better-Ball at the New Castle Country Club in a playoff.
Ellery's career low round was a sizzling 64 at Lake View. E also joined the hole in one club when he recorded an ace on hole #14 at Lake View in 2004.