Bob Paris captures 3rd EDGA Seniors
Bob Paris has been gone from Lake Shore Country Club for quite some time but he still finds the Fairview layout to his liking. Paris captured his 3rd JC Martin Seniors title today with a round of even par 72. Paris won his first Seniors in 2004 when he first became an eligible senior.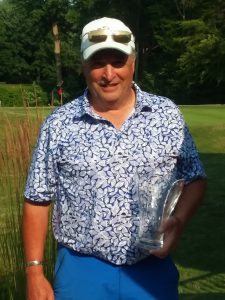 In 2011 he captured his second title which was hosted by Lake Shore. When the seniors was last hosted by Lake Shore, in 2016, Paris finished 2nd.
David Hewett, the 2-time defending champion finished tied for second with RC Chase and Mark Noce with 74. With a net score of 67 Mark Noce was the overall net champion for the event.
In the 50-59 age group, RC Chase captured low gross with 74, Rob Nicotra, in his first seniors, finished second with 76 and Dave Irwin and Tim Weyand tied for 3rd with 79's. On the net side Scott Simonsen and Garrett Taylor tied for first with 72 and Chris Keim finished 3rd with 73.
In the 60-69 age group, David Hewett was the winner with 74, followed by Chris Downey with 77 and Ellery Tarbell and Mike Capotis tied for 3rd with 78. John Adiutori and James Bowen tied for low net with 71's and Chip Shamburg and Homer Capotis tied for 3rd with 72's.
Dave Lehner won low gross in the Super Senior division (70 and over) with a one-over par 73 while Jim Delsandro and Chuck Faulkner tied for low net with 71's.
All of the above winners have pro shop credits in the Lake Shore CC Pro Shop.
A rare feat was accomplished during the round by RC Chase as, after getting off to an awful start he turned his day around by recording eagles on both the par 4 7th and par 5 8th holes.
The next Senior event is the Streeter Cup, which is a 2-man Team competition using the Chapman Format. That event is on August 2nd at The Kahkwa Club. There will be a Super Seniors division this year. Both players must be 65 or older to compete in the Super Seniors division. There is also a Senior Match Play event at Whispering Woods GC this year. That event will be in September with the dates and format yet to be decided.
Posted in Uncategorized | Comments Off on Bob Paris captures 3rd EDGA Seniors