Ryan Peters is the 2020 EDGA Match Play Champion
Ryan Peters of the Country Club (Meadville) was quite clinical in disposing of Matt Barto in the EDGA Match Play finals. In hitting fairways and greens he was almost without exception and the constant pressure he applied to his opponent, Matt Barto, eventually paid off.
After tieing the first hole with pars, Peters took a one up lead when Barto's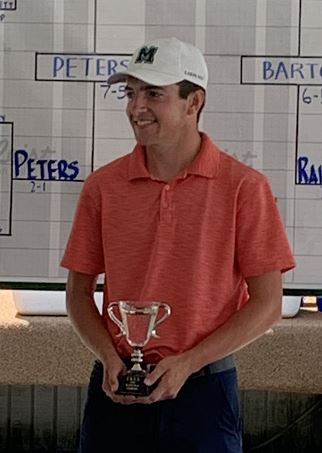 tee shot on the par three 2nd found the hazard left of the green. They match birdies on three and pars on four before Peters added to his lead with a birdie on 5. Both would bogey number six. Barto won his first hole, the seventh with a birdie after a wonderful second to about 20 feet on the par five. He would, however, give that hole right back when his second on number 8 found the hazard that fronts the green. Peters would advance that lead to 3up at the turn when Barto's tee shot missed the fairway left and was unable to save par. Peters added another on the tenth where Barto again missed the green and failed to get up and down. Neither was able to capitalize on good tee shots into the par 3 eleventh as Peters remained 4up.
Peters made his biggest mistake of the day on the par 5 twelfth when his tee shot went right and ended up in the hazard. He was able to chip out but Bart strung together 3 great shots and made his 3rd birdie on a par 5 to cut the lead to 3. Peters made a clutch 6 footer on 13 to save par after Barto had chipped up to a couple feet so the hole was halved. Barto hit it close on the par 3 fourteenth but was unable to convert and it too was halved. With Peters playing conservatively and Barto aggresively both found themselves with birdie putts on the par 5 fifteenth. Peters just missed and Barto converted (he birdied all of the par 5's) and the lead was down to 2 with 3 to play. Peters played a great second to the par 4 16th to about 12 feet just above the hole while Barto's rolled past the pin to about 25 feet. Pushing to win another hole Barto's birdie try ran 5 feet long. Peters was unable to convert his birdie to win the match but when Barto missed his comeback putt Peters had another clinching putt, this time from a couple of feet, which he rolled in to end the match 3&2.
The junior-to-be at Mercyhurst captured his first EDGA major. He previously demonstrated his match play prowess with victories in both the 2016 and 2017 EDGA Junior Match Play. He also won the 2018 EDGA Junior Stroke play so this is his 4th EDGA title overall. Barto who was the runner-up last year to Drew Deimel claimed his second runner up finish.
Tournament Prizes
Gift certificates for prize winners are available in the Whispering Woods GC pro shop.
Champion $400
Runner Up $250
Semi-Finalists $150
Quarter-Finalists $100
First Round Winners $75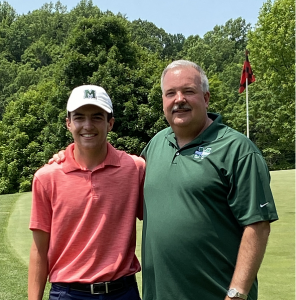 Posted in Uncategorized | Comments Off on Ryan Peters is the 2020 EDGA Match Play Champion