Cozad captures 2nd title in Playoff at rain soaked Downing
For a brief time it looked as if the final round of the 2019 EDGA Amateur would not be possible due to the excessive rain overnight and then again this morning but with a 2-hour delay and some sun and a light breeze the players took to the drier back nine to begin their rounds.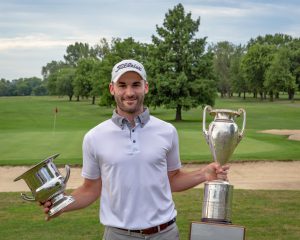 Playing in the penultimate group, Tyler Cozad birdied his opening hole and shortly thereafter eagled the par-5 13th. He closed the opening 9 with 5 pars and then opened his second nine birdie-par-birdie and found himself atop the leaderboard. That lead wasn't safe nor long lived.
Mercyhurt University's Adrian Larsen would go on a second birdie run, this time including birdies and 2, 3, 5, 6, and 7 to get back to 6 under and in the lead. Larsen had reached that number at the start of the round when he birdied 10, 11, and 13 to take a two stroke lead. He followed with a bogey at 15 after hitting his tee shot out of bounds and then made 2 more on 16 and 18. He found lots of trouble on number 1, his 10th, recording a double bogey and dropping him all of the way back to 1-under. Then the birdies started again.
Cozad followed a bogey at the par-3 5th with a later birdie at the par-3 8th to get within one. When Larsen 3 putted for bogey on the 8th behind him the two were knotted at 5 under with one hole to go. First round leader Drew Deimel was still not out of it heading to the last, needing a birdie to get to that 5-under mark. Deimel had fallen out of the lead with 3 late bogies on his first 9, leaving him at 2-under. However 2 birdies on his second 9 and one great par save left him in position to capitalize sitting one back with one to play.
Cozad came close to a closing birdie but could not get it to fall and set the mark at minus 5. As the last group finished, Deimel played first and missed the green to the right and, for all intents and purposes, ending his title hopes. Larsen, on the other hand left himself about 20 feet for birdie and the win. His putt just missed on the low side leaving tied at minus 5.
The playoff took place on hole 10, the same place where the weather-delayed round started some 4 hours earlier. Both players were well positioned off the tee and Cozad, playing first, put his second shot on the par 5 on the front edge of the green. Larsen was not as sharp, hitting his second some 30 yards left of the green and then proceeded to hit his 3rd over the back of the green. He was able to save par but Cozad hit his first putt to about 4 feet and then rolled in the winning putt with relative ease.
Cozad also captured the 2017 EDGA Amateur Championship at Lake Shore and tied with Cathedral Preo's Evan Rowane for the days low round, a 68. Rowane's score allowed him to jump into 3rd place. Deimel's closing bogey dropped him to minus 3 and tied for 4th. He tied with Mike Wolfe who shot one of the 3 69's on the day. EDGA Match Play Runner Up Matt Barto had one of them, giving him a 2-under par total of 214 and a 6th place finish. Clayton Skoff had the other, he finished 11th.
The top 10 was rounded out by 4 players who completed the tournament at even par including Ryan Deimel (72-216), Mike Newcomer (71-216), Ryan Petersc(73-216) and Sean Sculley (75-216).
The top 15 players earned prizes. 12th through 15th were Brent Rodgers (70-218), Defending Champion Patrick Kelly (72-218), Mark Majewski (74-218) and David Nichols (76-219). Prizes can be picked up in the pro shop at Downing.
Posted in Uncategorized | Comments Off on Cozad captures 2nd title in Playoff at rain soaked Downing